5 Doggy Workouts to Promote a Healthy Heart!
September 2020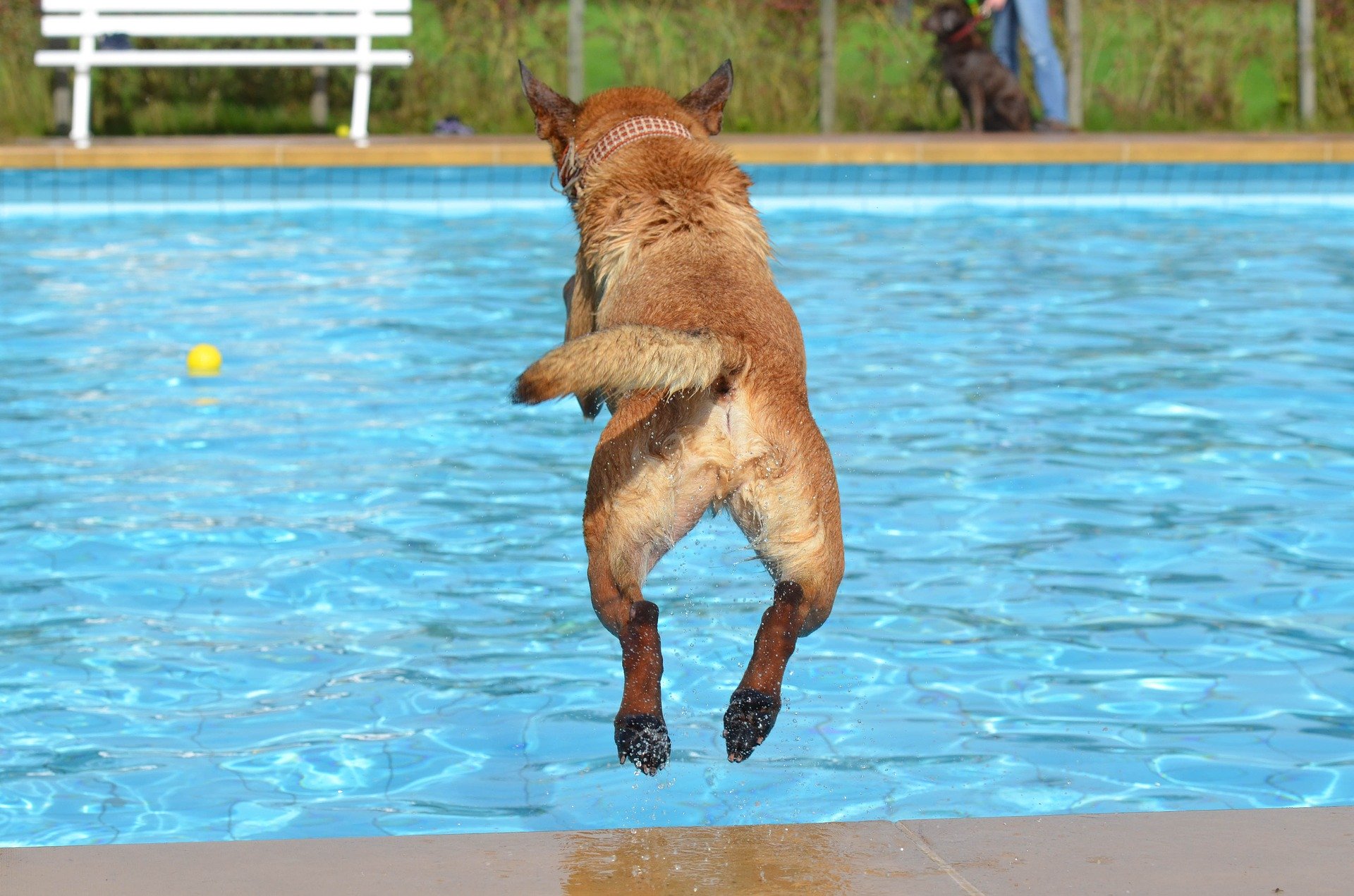 Heart disease affects over 30% of our canine companions! Just as in humans, introducing more exercise into a dog's life can help the heart pump blood more efficiently, keeping blood pressure under control and reducing the risk of heart problems in the future! Here are five things you can do to keep your dog (and yourself!) moving!
Swimming
Swimming is a fantastic exercise for both humans and dogs (if they enjoy swimming)! The water reduces pressure on the joints but it still can be a tough workout. If you have a pool at home or a beach nearby that allows, take your doggy for a dip, or if you don't, some municipalities and public pools offer special 'dog swim' days! There are also some rehabilitation facilities that offer swimming outside of rehab. Just make sure that you keep a close eye on your pup and NEVER leave a dog unattended in a body of water.
Agility Course
An agility course or obstacle course works out both your dog's body and their brain! Obstacles like a seesaw, weave poles, a bar jump, and a pause table will be a fun challenge for your dog to navigate. Earlier this year, we wrote a blog all about agility training and how you can set up your own course for your pup, so check it out if you're interested!
Tennis
We all know that dogs love tennis balls - why not take advantage of this and work out with your pup? Tennis is a great arm and cardio workout for you, and your dog will get plenty of exercise running back and forth to get the ball! Find a local tennis court that will allow you to play with your pup and grab a pack of balls and a racket and you're all set! If you can't find a dog-friendly court, you can always play fetch or practice your serve at home!
Frisbee
Frisbee is a classic way to play with your pup! Grab a disc and head to your backyard to get some quality time in with your dog. Make sure you pick up a frisbee designed with dogs in mind - traditional frisbees run the risk of damaging a dog's teeth, and are easier for them to grip with their mouths. Frisbee is great for getting your dog's heart rate up, but it will also help with coordination and agility as well! Best of all, it can be played almost anywhere!
Running/Walking
Finally, we can't forget about the most important, most classic form of doggy exercise - running or walking! Grab your leash and hit a trail, a path, or jog around your neighborhood! Take strides at a good pace for both you and your dog, making sure your pup can keep up with you! Vary your course from time to time to keep things fresh and exciting for the both of you! You can also do interval training of walking and running for a fun challenge!
Before You Go Outside
Remember to follow all leash laws and ensure that the places you plan to go are dog-friendly. Take water, a portable bowl, bags for dog waste, and anything you need depending on the weather (make sure your dog doesn't get too hot or cold)! Most importantly, make sure you keep an eye on your pup the entire time - if your dog seems worn out or exhausted, let them take a break in a shady area or take them home. Exercise is great, but heat-related illnesses on a warm summer day are not worth the risk. If the weather is too extreme, it is best to stay home.
Working out with your canine companion will help both of you lead happy, healthy lives and keep your heart in good shape! CVCA is here to help pet owners navigate any heart issues their pet may present.
If you're looking for the best cardiac care for pets throughout Kentucky, Maryland, Texas, Virginia, and beyond, contact us at CVCA to schedule an appointment today.